Do you need some inspiration for short hairstyles over 50? Women often tend to switch up their hairstyle and length as they age. This can be due to a changing hair type (such as greying hair, thinning hair, and hair loss) or just because as women mature they often feel more confident and youthful, and are ready to ditch long locks in favor of something versatile and lower maintenance.
While a short pixie crop is often the most popular short hair styles, you might be seeking short hairstyles for round faces over 50. So, we've gathered up some stylish short haircut looks that are sure to turn some heads. No matter your facial type or hair type, any of these modern takes are age-appropriate and yet remain playful and youthful. Is it time for some change as you age? Scroll on.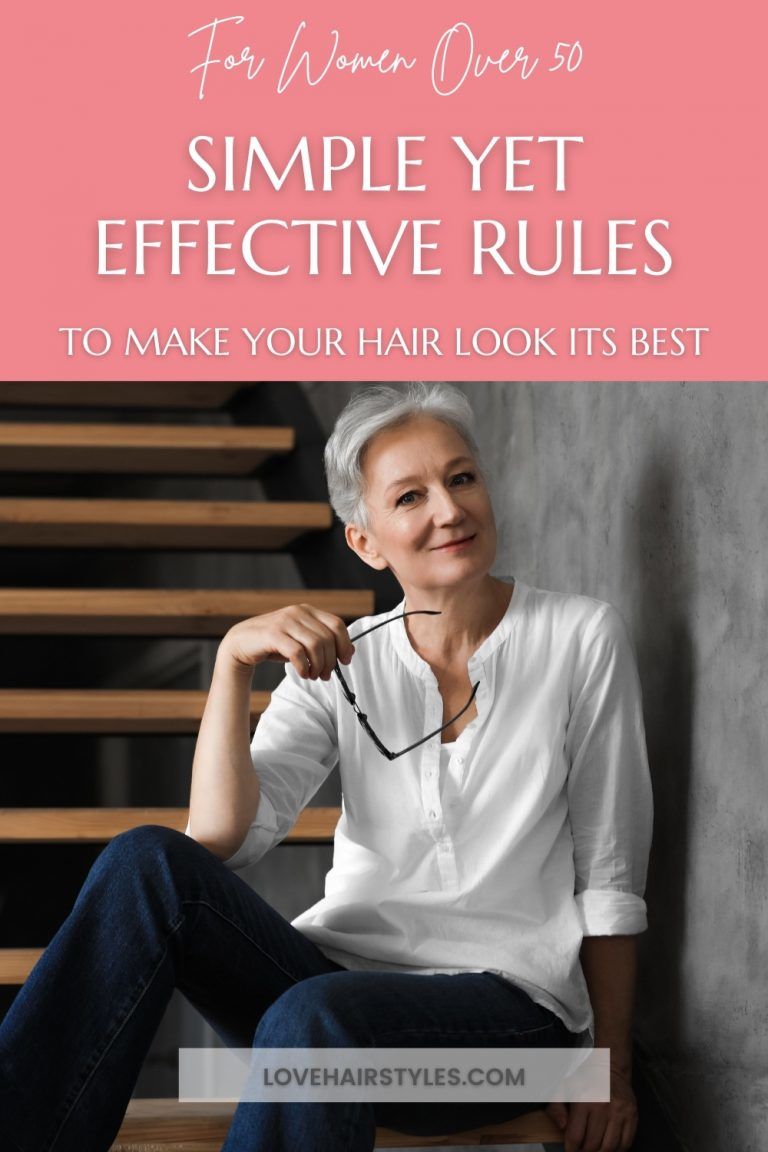 Recommendations on Short Hairstyles for Women Over 50
When women hit a certain age, they want their hairstyle to look respectable while keeping up with trends. Follow these simple yet effective rules to make your hair look its best without any age tags.
Go for slicked-back hairstyles to take the hair away from your face, thus opening it up.
Steer clear of shags, opting for elegant and clean short hairstyles for women instead.
Incorporate light and neat bangs to disguise forehead wrinkles.
Dye your gray locks in lighter shades or add highlights to them.
Match your haircut to the shape of your face and the texture of your hair.

Pixie Hairstyles For Women Over 50

When you think of a pixie, you might imagine actresses like Halle Berry and Winona Ryder who flaunted this famous crop. A pixie haircut is truly the embodiment of youth and playfulness. This classic cut draws attention to facial features and requires little effort to look both sexy and cute. Go bold with bangs or turn heads with a platinum pixie. However you choose to embrace it, a pixie always ranks as one of the top hairstyles for women over 50 with fine hair. A pixie requires little styling and its carefree approach is a perfect match for the easy living pace of women in their 50s.

Short Blonde Pixie

Credit photo: instagram.com/cut_and_color

Blonde is the word. Always striking and eye-catching, platinum blonde hair is ideal for fine hair. Not only will the bleach swell the hair shaft causing it to be more voluminous, you won't suffer long-term damage because you'll be wearing your chemically treated locks short. Short pixie hairstyles for women over 50 never go out of style. In fact, the more you age, the better this bold cut can look. Whether you opt for an all-over blonde hue to cover the grey or soften your color with sun-kissed highlights, a short blonde pixie looks flattering on many different hair types and skin colors.

Brushed Back Long Pixie

Credit photo: instagram.com/oldushkamodels

Upswept short haircuts for women over 50 can soften facial features while emphasizing prominent focal points such as cheekbones or the eyes. A modern take on the classic look, this upswept pixie can be styled easily by growing out bangs and using a bit of a volumizing product such as a mousse, to build up the lift at the crown. Blow-dry the top backward and tuck the ends under with a round brush and you'll be left with an upswept hairstyle that never falls short on sassiness. If you want to add some extra sass to the cut, be sure to pair your brushed back locks with bold accessories such as fun earrings or a statement necklace.

Sleek Pixie With Side Part

Credit photo: instagram.com/lori_dawnolyn

Define your bold pixie cut with a side part and slick it back for a sophisticated style that oozes confidence. Perfect for formal events or for strolling on the beach, a side parted slicked back pixie is minimal in styling requirements, but still entirely feminine. The secret to a clean side part lies in your hair tools. A rat tooth comb will help you define the perfect part with ease. You can also add a styling gel or product to this style to ensure all-day hold to a pixie that's classic and bold.

Pixie With Brushed Up Bangs

Credit photo: instagram.com/silverstylestudio

Take your pixie to new heights with brushed up bangs. Simply work a firm gel throughout the hair and use a vent brush while directing your blow dryer straight at the root. This look is a fearless and confident take on short haircuts for women over 50. You're never too old to be brave and sexy, so why not wear that pixie cut a little wild? If you want to go for an extra edgy version, you can add bold color to your pixie crop to turn things up a notch.

Spiky Pixie Short Hairstyles For Women Over 50

Credit photo: instagram.com/cut_and_color

At first sight, it's just a short pixie haircut. The difference is there's lots of spikes that make this crop effortlessly bold and stylish. Needless to say, this is how you can make a statement while keeping up with the art of simplicity. A tip: combine short hairstyles for women over 50 with trendy hair color to make it stand out.

Slicked Back Pixie Short Hairstyles For Women Over 50

Credit photo: instagram.com/lisalaroegoveia

If you wondering how pure elegance and refinement look like, look at this idea to get the answer. Obviously, there's nothing easier than taming your hair with a smooth pomade or hair gel and sweep it backward. But the result of this simple but sophisticated hairstyle is worth a red-carpet walk!

Pixie With Long Side Bang

Credit photo: instagram.com/mariechristinegiordano

A long fringe that seamlessly blends with your pixie, thus making it appear fuller - it's just too good to be true! As a matter of fact, women of any age can't go wrong with such a contemporary hair idea. Once you finish it with color that suits you best, you will reveal the beautifying potential of short hairstyles for women over 50.

Shaggy Pixie Short Hairstyles For Women Over 50

Credit photo: instagram.com/michele_torres

Shaggy pixies can be different; as different as you want them to be. This idea, for example, is the sassiest, the shortest shaggy pixie ever. Nevertheless, the movement created by lively layers is enough to add a chic modern twist to the style. The age-defying power of this cut is so great that you can come across it among trendy short haircuts for women over 60, too!

Dark Blonde Pixie Short Hairstyles For Women Over 50

Credit photo: instagram.com/Ro.hsiqueira

A short pixie cut is super trendy and can be styled in a few ways to help you look great throughout the year. Whether you have thin hair or thick hair, this haircut is one of the short hairstyles for women over 50 that would suit any hair texture. You can prefer to keep the hair at the nape of the neck short in order to accentuate your slender neck. Be it dark blonde or honey blonde, adding dimension with color is a great way to enhance this haircut. You can also opt for bold colors, but proceed with caution, as the right placement of the color is vital.

Brown Pixie-Bob With Bangs

Credit photo: instagram.com/Boehair

In the over 50 age group, women often consider getting their hair colored to look younger and more presentable. How about a brown bob with bangs? Looks pretty, doesn't it? Well, at your next appointment with the hairstylist, ask him/her for a short bob hairstyle with the longest layer ending just before your chin. Keep the bangs neat and crisp to avoid looking shoddy. You can also add some layers on the top if your hair texture permits them. In the end, pick a warm brown color that would suit your skin tone and you are ready to conquer the day!

Grey Pixie With Undercut

Credit photo: instagram.com/Deborah__darling

When you search for short hairstyles for women, you often come across the pixie haircut with an undercut. But then, you think you are too old to get an undercut. That is absolutely not true. On the contrary, this is actually a great hairstyle for older women with fine hair. You can keep the undercut minimal at first and then increase the surface area it covers if you like later. This edgy haircut can easily be styled to look feminine by using the right tools to get those luscious waves on the top.

Bold Icy Blonde Faux Hawk For Pixie Style

Credit photo: instagram.com/Mayemusk

If you are looking for a bold and more voguish hairstyle, then why not go in for a faux hawk? When it comes to hairstyles for over 60 with grey hair, this hairstyle is on the rise, as women are embracing their age and their personality at the same time. In a faux hawk hairstyle, the hair near the forehead is kept longer than the rest. The sides of the head can have hair that is really short in length or you can also trim it to minimum length based on your preference. You need a good hold styling gel to create the faux hawk on the top!

Grey Pixie Short Hairstyles For Women Over 50

Credit photo: instagram.com/Shannelmariano

A short hairstyle can be instantly transformed into one that is a head-turner by making it asymmetrical. And once you look at the before and after pictures here, you will see the wonderful transformation yourself. The addition of uneven and choppy layers have added dimension to the rather flat hair. Along with the side shaved hair, this hairstyle has made the woman look younger and more elegant. It is also great to highlight your facial features like the cheekbones. Dark gray pixie hair like this can be easily embraced once you are over 50 with sassiness.

Cool Rose Pixie Short Hairstyles For Women Over 50

Credit photo: instagram.com/Сhicover50

Many women who want easy to maintain short hairstyles for over 50 for fine hair often opt for a pixie cut. That's because the layers can be kept long enough to just lightly accentuate the facial features. Don't be shy to make you this hairstyle stand out! A long pixie haircut can be made interesting by adding subtle color like the rose-pink in the picture. Ask your hairstylist to add plenty of layers so that you can tease the ones at the top to add some volume to your fine hair.

Wavy Pixie With Undercut

If you want to remove some length from your wavy hair, this short pixie undercut is a great way to add some volume and movement to those curly locks! Ask for an undercut in the back and then style your wavy tresses to one side for maximum fullness and texture. Also, why not go for a pretty buttery blonde and chestnut brown balayage to take this trendy look to the next level?

Muted Mauve Edge Pixie With Long Bang

Another edgy haircut is this blonde pixie with soft mauve hues throughout. Pixie haircuts with long bangs are a great way to make your face appear younger and longer. It can also add softness to your features. The muted move streaks are a subtle hint of color to bring out your youthful side. As a result, this cut looks very stylish and hip with the right earrings and makeup!

Platinum Punky Pixie Short Hairstyles For Women Over 50

Tired of looking at pictures of short haircuts? Well, look no further! This stylish faux hawk pixie is so hip and youthful that it's hard to take eyes off! If you are looking for avant-garde women's short hairstyles, then this platinum and silver faux hawk is right up your alley! Since it has a ton of volume on the top, it's a great way to add fullness to your hair while keeping it short and sassy!

Cool Violet Accents On Pixie

Credit photo: instagram.com/olga.lebedinskaya

Although this violet pixie is one of the most popular short sassy hairstyles 2019, it's still in demand for 2021. Purple hair is very trendy, and this pretty violet spiky hair pixie is no exception! Ask your stylist to keep it longer in the front and shorter in the back for a youthful vibe! All in all, the messy pixie is fun and flirty if you want a carefree look.

Grey Messy Pixie With Long Bang

This longer pixie is ideal for those who want a "get up and go" style. By the way, short pixie hairstyles for women work great for those with naturally wavy hair. The tousled waves will show that you have a playful and carefree side. And the silvery gray shade is so pretty. It should be noted that gray hair is all the rage these days, thanks to celebs and fashionistas!

Choppy Pixie For A Cool Lady

Credit photo: instagram.com/iconaccidental

A short and sassy pixie cut is always in style! Apparently, this adorable pixie is one of the best looks for choppy layered hairstyles for women over 50. The pretty salt and pepper hue and shaggy layers give it a bit of an edge if you want a look that has a bit of a daring side! All you need is some gel and a lot of attitude, and you're good to go!

Punky Pixie Short Hairstyle

Credit photo: instagram.com/Mayemusk

Being punky is never too late, believe us. Just look at this daring pixie cut spiced up with a pop of color. Who is the trendiest? You are the trendiest, of course. This look is totally jaw-dropping, no doubts.

Brown Pixie Short Hairstyles For Women Over 50

Credit photo: instagram.com/Studiomarteena

This deep-brown color along with a short bold pixie is quite refreshing. Chop off some years with your hair (3)!

Silver, Feathered Pixie Cut

This idea is the perfect example of how a short pixie looks great on older women. The salt-and-pepper color with its feathered texture also looks quite sophisticated with a bit of a daring edge.

Longer Pixie Short Hairstyles For Women Over 50

While most pixie cuts are shorter, this fun pixie cut keeps the same basic look but adds length and volume with its long bangs that frame your face for a peek-a-boo effect.

Sassy Pixie Short Hairstyles For Women Over 50

Credit photo: Pinterest.com/Abbymoneyhun

This chic and stylish do is the perfect example of a bold and daring haircut for older women. With a few bold spikes on top, this sassy textured pixie cut works best on those with oval facial features, despite being pretty short.

Cool Black Pixie With Very Short Bangs

Fringe has made a huge comeback lately and is especially stunning on a cute pixie bob haircut. This trendy pixie is super chic with its side swept, short bangs and slightly razored edges. And last but not least, this look has a bit of a daring vibe yet is still soft and chic if you want a look that's super cute and fem!

Bob Hairstyles For Women Over 50

Blunt Bob With Thin Fringe Short Hairstyles For Women Over 50

Credit photo: instagram.com/moniqueparent

We will never stop showing our mature readers the latest trends in bangs for two reasons. Firstly, bangs are huge in 2021; they're popular with women of all ages, regardless of image and style. Secondly, it's no secret that bangs take years off better than any cosmetology appointments. For that reason, not finishing your blunt bob with a fancy choppy fringe that barely hits your eyebrows would be a crime!

Straight Side Swept Bob

Credit photo: instagram.com/cut_and_color

We are almost certain that you will be pleased to find out that shoulder length hairstyles are exceptionally flattering for women over 50. Moreso, if it's a side swept bob. It allows you to camouflage all the fine lines you want to remain unseen while accentuating your most attractive facial features.

A-line Layered Brown Bob Haircut

Credit photo: instagram.com/styled_by_carolynn

Wedge bob haircuts are versatile short hairstyles for women over 50, especially for those who love bulky twists. If you have straight and moderately thick hair, then you can opt for this hairstyle. Also, if you have brown hair, then you can easily mimic the model's haircut but your hair color can be anything else too. Of course, it doesn't necessarily have to be brown like the model's'; it just looks good on brunettes. This short haircut for older women involves shorter layers on the top and these layers become longer towards the face to get the A-line layered look. Use a big, round hairbrush to style while blow-drying your hair.

Soft Layers On Medium Bob Short Hairstyles For Women Over 50

Credit photo: instagram.com/teraohara

Since layers can be customized based on your needs, you can get a subtle layered finish if you're not into drastic looks. To achieve such a soft, gentle effect, you will need to ask your hairstylist to lighten up the ends, working with thick strands. In this way, you will only have some organic movement on the bottom, which is enough to enhance your look.

Bob With Wavy Layers Short Hairstyles For Women Over 50

Credit photo: instagram.com/paolamarella

Besides volume and movement, layers have something more to offer. It's something that doesn't appear on the surface. To reveal the secret magic of layered short hair, you need to take a magic wand. Well, a curling wand or flat iron will do just fine as well. Then, wave the layers and enjoy the way they add dynamics to your bob. That's it!

Brushed Back Beachy Bob

Beachy waves are known as an eye-catching, effortless hairstyle. What if we tell you that you can pull it off and express your exquisite taste at the same time? The style you see about is nothing but beachy waves brushed to the back. This idea, first of all, diversifies the common image of the style, making it more mature. Secondly, it gives a very pleasant, airy finish, which is always a win for ladies!

Messy Side-Swept Bob Short Hairstyles For Women Over 50

Credit photo: instagram.com/iconaccidental

Messy hairstyles, whatever they are, bring a youthful look and a carefree mood at the same time. On top of that, such ideas have countless benefits for older women, and tons of volume achieved by simple tousling is probably the first one. Having a good quality salt spray in your styling arsenal is enough to rock this look from time to time. Or on a daily basis, if it appeals to you!

Bob With Elegant Headband

Credit photo: instagram.com/oldushkamodels

Adding some embellishments to your natural accessory won't hurt. Moreover, creating a combo with a hairdo and a hair accessory is a unique way to add more character to your look. And last but not least, your short hairstyle will be secured all day long, so you can forget about countless touch-ups.

Grey Bob Short Hairstyles For Women Over 50

Credit photo: instagram.com/sakurami_moscow.bronnaya

If you prefer slightly longer hair, then bob hairstyles are you go-to. A classy bob cut with almost even layers suits thick hair the most, as thin hair can look unflattering in this hairstyle. As a youthful hairstyle over 50, this haircut can be sported by women with grey hair, blonde hair or any hair color. You can also style the haircut with a poufy side partition for that feminine touch. A middle part also looks great when you wish to achieve a more sophisticated look for work.

A-line Layered Golden Bob Short Hairstyles For Women Over 50

Credit photo: instagram.com/headrushdesigns

For women over 50 with blonde hair, a bob haircut is one of those easy care short hairstyles for women over 50 for your fine hair that will keep you stress-free for everyday work. An A-line bob haircut is a basically great type of bob haircut that you can get with longer layers in the front to frame your face and short layers at the back to boost your fine hair's volume. In order to add some dimension, add varying colors in the same color palette. A gold balayage is subtle but definitely a stylish option to emphasize your haircut. Additionally, use a texturizing spray to add some grain and a shine spray to keep your hair looking polished.

Icy Blonde Very Short Bob

Credit photo: instagram.com/Mayemusk

This picture is a great example of medium hairstyles for women over 50. The length of your hair is kept a bit longer than a short pixie cut and is almost the length of a bob haircut. Opting for lighter colors like the platinum blonde on the model in the picture as such colors can make you look younger. Also, make sure to style your short bob haircut neatly as shagginess will only make you look sloppy. In general, this hairstyle is best suited for women with hair that has medium level thickness as fine hair can look flat in this hairstyle.

Muted Brown Short Layered Bob With Straight Bang

Credit photo: instagram.com/dominiquesachse

Short bob haircuts for women over 50 are trending everywhere these days. And why not? They are a great way to style both curly and straight hair, after all. Ask for a classic bob with face-framing layers and blunt bangs such as this short layered bob hairstyle. Then throw some muted brown streaks in the mix to add a subtle burst of color to show off your carefree nature! Indeed, this idea is suave and chic for a polished and refined look.

Stylish Bob With Color Mix Short Hairstyles For Women Over 50

Looking for short hairstyles for fine hair? A short layered bob is a great way to add some volume to thinner tresses. And we think the fuchsia pink steaks blended with the salt and pepper base is very young and chic at once! Pink hair is very in right now so why not go for a bold burst of color?

Grey Short Bob Hairstyle

Credit photo: instagram.com/Lizwparks

If you love blunt bob haircuts, this silver gray hair cut might be just what you're looking for! Ask for face-framing layers to soften the look. The silvery and white hues make this look sophisticated yet sexy. Also, you can make a deep part and style the bangs to one side to give this a flirty feel.

Chesnut Straight A-line Bob Short Hairstyles For Women Over 50

Credit photo: instagram.com/headrushdesigns

An A-line bob is timeless. Furthermore, it is a good choice for those who are looking for short to medium layered bobs. This chestnut and brown balayage blend is very pretty and will add depth and dimension to your hair for a look that's hip and young. After washing your hair, use a round brush to blow dry it straight for a polished look.

Dark Brown Chin-Length Bob Short Hairstyles For Women Over 50

Credit photo: instagram.com/styled_by_carolynn

For those who prefer a short layered bob hairstyle, this short A-line bob is striking! The blue-black shade is very dramatic, and the shorter layers add a ton of volume for those with thinner tresses! Blow it dry straight with a round brush and finish with a flat iron if needed in order to get a sleek finish that is polished and refined!

Auburn Layered Bob Short Hairstyles For Women Over 50

Credit photo: instagram.com/styled_by_carolynn

If you aren't feeling a pixie, how about classic layered bob hairstyles? A sleek layered bob is indeed very chic and sophisticated! Ask for layered bangs to softly frame your face and layers throughout to add volume and movement. You can also add a pretty light auburn shade for a youthful and fun flirty vibe!

Icy Blonde A-line Straight Bob

Credit photo: instagram.com/styled_by_carolynn

A sleek short hairstyle and fair color that brings volume like this icy-blonde A-line bob can do wonders making you appear much younger.

Tapered Sleek Short Bob

Credit photo: instagram.com/maggie_menges

This sleek style with longer side bangs will give round cheeks a slimmer look without adding extra volume. Since shorter layers add more texture to your fine hair, we recommend this look to women with thin hair who want a sophisticated look with a slightly daring edge. The good news is, this cut is great for all ages, so look no further when searching for short haircuts for women over 60 with fine hair.

Cropped Cut Bob With Side-Swept Bangs

Credit photo: instagram.com/shorthairbyshawni

This trendy haircut with layers around the crown adds plenty of volume. Side-swept bangs add a playful and fun look for a short and sassy style.

Soft Blonde Chin-Length Bob Hairstyle

Credit photo: instagram.com/Mary_impressions

This adorable and fun cut with its layers and nonchalant bangs add a sweet and sophisticated edge and will show off your gorgeous facial features.

Short, Wispy Haircut For Finer Hair

Credit photo: instagram.com/shorthairbyshawni

Finer hair always appears thicker when it is cut short. This classic look with its darker blonde color and some simple back-combing will add volume to your shorter locks. Apart from that, this elegant look is timeless and has a hint of carelessness, which is so popular these days.

Lovely Blonde Locks

Credit photo: instagram.com/chrisjones_hair

Once you get this elegant style, you can rock your natural blonde hair color. By the way, you don't have to worry about bleach if you simply add soft and romantic pastels. Even though the hair is pretty thin, this fun and funky cut add fullness with its wispy and feathered layers.

Layered Hairstyles

Spiky Shag Cut

Credit photo: instagram.com/shorthairbyshawni

When it comes to fine hair, volume and movement are at stake. Well, there's nothing like a spiky shaggy pixie when you're dealing with thin, lifeless locks. Once you get your hair layered and apply some texturizer to it, you will see the whole look amp up, gaining tons of volume. Even though spikes are considered rather punky, you can make them smooth and feminine if you run your fingers through the style.

A-Line Shag

Credit photo: instagram.com/Dominiquesachse

With such a breathtaking, wavy A-ling shag, you can look years younger, as this look is both chic and contemporary at the same time(2). It's perfect with its ruffled imperfections. Basically, you can rock this style at any length if you alternate texture and silhouette for a fun and playful look.

Classic Shoulder-Length Cut With Bangs

Credit photo: instagram.com/simone_i_jacob

Women of any age can rock this classic look. Besides being extremely easy to manage, it also works great for any hair texture. You can curl your hair or wear it higher according to your mood.

Messy, Bright And Short Hairstyles For Women Over 50

Credit photo: instagram.com/Cosmo_camee

This dazzling, messy layered look is timeless. With its messy crown and neatly styled sides, it can accentuate your eyes and bring out your more daring side at once. Add some highlights for a bolder edge.

Classic Layered Short Hairstyles For Women Over 50

Credit photo: instagram.com/Vitahairstudio

This volumetric style with lots of layers works perfectly for ladies who want to amp up their looks just like Dorothy Hamill did. Style your hair on a slant, define your layers with mousse, and you can totally rock this adorable short hairstyle.

Fluffy, Short Curls

Credit photo: instagram.com/Terukolaura

These distinctive silvery curls can make your face look elegant with a soft, romantic flair. If you sweep your curls back, you can totally rock this simple short hairstyle.

Iconic Celebrity Hairstyles of All Time

Nicoletta Braschi: Short Messy Pixie

Credit photo: Andrea Raffin/Shutterstock

It seems like there are no better hairstyle role models than celebrities. For example, Italian actress Nicoletta Braschi decided to show up at Cannes with a youthful and carefree pixie to accentuate her effortless look. Why not copy it?

Emma Thompson: Long Shaggy Pixie

Credit photo: Featureflash Photo Agency/Shutterstock

Emma Thompson always knows how to be on point with her hair. Her long shaggy pixie that gives a lot of lift to the crown while keeping the overall look very well-groomed simply slays cameras with the amazingly lively appearance (1).

Tilda Swinton: Slicked Back Straight Pixie

Credit photo: Andrea Raffin/Shutterstock

Needless to say, Tilda Swinton is one of those inspiring ladies who sport the looks to steal. To open up the best features of her face, she opts for a slicked back straight pixie that keeps the top voluminous and her silhouette sleek.

Meg Ryan: Middle Parted Wavy Bob

Credit photo: Featureflash Photo Agency/Shutterstock

Just like any wise woman, Meg Ryan knows her best sides and flaws. She looks wonderful with this middle-parted bob, finished with slight waves because they give a soft framing effect at the sides, thus making her face appear more attractive.

Faith Hill: Layered Side-Parted Pixie

Credit photo: DFree/Shutterstock

Since layers can not only deal with thin hair but also give a very modern look, Faith Hill made a layered pixie a part of her fashion look. Though the cut is pretty short, the play of side-parted layered tresses gives a well-balanced body to her style.

Holly Berry: Punky Pixie

Credit photo: s_bukley/Shutterstock

Punky but feminine. This is how Holly Berry chose to meet the world premiere of her movie, showing off her restless, yet girly character. Some of the front locks are left to frame her forehead, and that's what makes the whole look so sophisticated.

Catherine Bell: Wavy Chin-Length Bob

Credit photo: Kathy Hutchins/Shutterstock

Catherine Bell with her wavy bob is here to make all women get the most out of their wavy and curly textures. Here she keeps her natural texture as effortless as never before, letting a chin-length bob whip it into shape.

Felicity Huffman: Straight Stacked Short Bob

Credit photo: Tinseltown/Shutterstock

We've seen Felicity Huffman with so many different hairstyles, but this one seems to be the most flattering one. The stacked straight bob, where the front is slightly longer than the back portion, really takes years off, especially if the front pieces slightly frame the face.

Cate Blanchett: Bob With Hollywood Waves

Credit photo: Andrea Raffin/Shutterstock

Short bob with waves for a red carpet look. Why not? Cate Blanchett combines everything a modern look needs: classic, minimalism, and pure femininity. Her side-swept waves create a gentle framing silhouette while keeping her face absolutely open. Isn't that magic?

Robin Wright: Side Parted Bob With Flipped Ends

Credit photo: Denis Makarenko/Shutterstock

Robin Wright proves that a simple bob with flipped ends can nicely finish a Cannes look. The point is that the style should perfectly match one's facial features, just like this bob does: the airy ends visually give a rounder shape to her pointed features, and front tresses partly overlap her broad forehead, building the ideal balance.

Dorothy Hamill: Chin Length Bob With Layered Bangs

Credit photo: Debby Wong/Shutterstock

Dorothy Hamill once cultivated a trendy haircut that had gone viral all around the globe. And here's a pic showing that this lady hasn't stopped updating her look throughout her life, making it even more flattering to fit her age and status. Here, she rocks a lightweight bob with sharp front layers and layered bangs that curve to form a pleasant silhouette and bring out the beauty of her eyes. Hands down, her approach to chin-length haircuts is worth a red carpet! She looks simple fabulous with this cut.

Cate Blanchett: Side Swept Long Bangs

Credit photo: Featureflash Photo Agency/Shutterstock

We bet Cate Blanchett is a secret ambassador of bob haircuts: she seems to have pulled off all its versions, from classic to elongated and framing. Today, she's found her happy medium in a shoulder-length haircut with long bangs swept to one side. The fringe softens up her prominent facial features, making the whole look more balanced and harmonic.

Jennifer Lopez: Messy Shaggy Lob

Credit photo: Tinseltown/Shutterstock

Every time J-Lo appears on the red carpet, jaws drop and minds go crazy about her fresh and lively looks. Of course, she does a great job in gyms, but the way she gets her hair cut and styled also plays a crucial role in her bombshell look. Here, her slightly shaggy lob adds tons of movement to the hair and thus creates a very dynamic silhouette that accentuates her well-defined jawline and chin.

Naomi Campbell: Sleek Blunt Bob With Thick Bangs

Credit photo: Debby Wong/Shutterstock

Back to short! We've seen Naomi Campbell with bobs, lobs, and even pixies, and now we're glad to behold her unique take at the classic bob. This girl is no stranger to bangs, so she knows what a great beautifying power they have. On her perfectly straight and shine-reflective hair, the iconic look reaches a brand new level, putting her best features in the spotlight.

Popular Ideas How To Style Hair For Women Over 50 in 2021

There you have it... our favorite sassy, sophisticated and classic short hairstyles for women over 50. Find the look that works best for your facial features and personality! Be daring and rock your shorter haircut with a style and flair!

Brushed Up Faux Hawk Short Hairstyles For Women Over 50

Credit photo: instagram.com/headrushdesigns

It's never too late for color experiments, as well as to give the green light to spiky hawks! Despite common misconceptions about coloring hair, this hair idea is far from total damage. All in all, modern colorists don't stand still, and the same goes for manufacturers. Instead of going for a permanent look, you can go for a washable temporary dye! As for styling, all you need is to brush the top up with your well-gelled fingers.

Updo Sleek Twist Short Hairstyles For Women Over 50

Credit photo: instagram.com/a_kool via

Do you gravitate to more intricate hairstyles? Even though it looks quite elaborate, in reality you won't spend much time creating it. For this sleek updo, you need to twist the strands of your hair consistently and secure the ends at the base of your hairstyle.

Wavy Twisted Updo Short Hairstyles For Women Over 50

Credit photo: instagram.com/moniqueparent

This is your sure way to go when you need to look dressy and sophisticated at a fancy event. Although it will take some time and effort to create, it fully pays off with tons of compliments you will definitely collect left, right and center.

Messy Wind Swept Short Hairstyles For Women Over 50

Credit photo: instagram.com/judith_petz

To emphasize your romantic and dreamy personality, it's hard to think of a better style than messy wind swept hair. It doesn't require much effort to achieve while looking elegant and at ease at the same time.

Brushed Up Bangs

Credit photo: instagram.com/michele_torres

If you are used to wearing your bangs straight, it is high time to try out something new. How about brushing them up for a playful and a stylish look? Yet, with the rest of the hair chopped short and neat, you will not cross the border that makes your hairstyle look unkempt or inappropriate.

Tousled, Carefree Look

Credit photo: instagram.com/chrisjones_hair

This natural look with its messy waves can not only add some movement to your hair but also soften up your face.

Stylish Messy Spiked Short Hairstyles For Women Over 50

Credit photo: Pinterest.com/Chicover500610

In case you really want to rock a bold and daring 'do, this messy, spiky cut will add major volume to fine hair. Also, don't forget to opt for putty rather than gel to keep your hair looking soft and smooth to the touch!

Swept Back Updo Short Hairstyles For Women Over 50

Credit photo: instagram.com/lou_f_kenny

Here is one of the best ways to style short hair when you are in your most beautiful 50s. Just sweep all of the hair back toward the nape, which will create the appearance of a carefree and relaxed updo.

Cold Toned Center Parted Waves Short Hairstyles For Women Over 50

Credit photo: instagram.com/burtonregina

In case you don't want to experiment with the style of your hair but still want to upgrade the way it looks, you can play around with its color instead. Dyeing your locks in cool tones will help you not only disguise gray hairs but also keep your thatch in pace with current fashion trends. As for the style, go for something natural, such as loose waves with a center part.

Voluminous Swept Back Hairstyle

Credit photo: instagram.com/lisskulla_ljungkvist

While for most women such a hairstyle is rather a big-day option, older women with refined, exquisite taste can wear it as a casual hairdo. If you still think that you miss many styling options with the time, think again. This voluminous, elegant hairstyle is easy to achieve. Still, only women with a totally dainty image can pull it off right.

Wavy, Short Hairstyle To Add Volume

Credit photo: instagram.com/catherinerobertsmodel

This simple cropped haircut is one of the most popular short hairstyles for women over 50, as it does not require a lot of styling time. Not only does this adorable cut embrace volume for naturally wavy hair but it also adds lift to the top. On top of that, it is easy to manage and works for any occasion.

As a rule, older women seem to follow an unwritten set of rules for short hairstyles once they are older than 50. If you prefer a look that is elegant and sophisticated, you can brush your locks back so you can open your face. Shaggy haircuts look awkward and sloppy on older women. Bangs are acceptable, especially if they make your face look younger. However, you should keep them trimmed and perhaps style them to one side not to completely cover your forehead. If you dye your hair, you should opt for lighter hues which can also help you seem years younger. A lot of women can pull off silver hair if it is styled properly. However, if you are not one of these lucky few, you should opt for soft blonde highlights.

Hairstyles for Women over 50: FAQ

How can a woman look younger at 50?

In terms of your hair and style, the best way to make a woman over 50 look younger is to focus on face-framing haircuts with bangs and slightly disheveled texture. Also, don't forget about color makeovers: the right choice of highlights can make years vanish!

What hair color makes you look younger?

Warm and light colors such as caramel, honey, and bronze highlights and soft accents are the best way to add more liveliness to your overall look and make you look younger.

Does long hair make a woman look older or younger?

Even though long hair is usually aligned with youth, at some point, it can add some extra years to your look. Make sure to avoid pin-straight hair, as it puts your face in the center of attention, accentuating all the lines. If you prefer longer looks, it's wise to braid your hair or wear it in buns.

REFERENCES: